The moment we walked into the midwife's office, I knew you would be attending our birth. There wasn't much discussion about it after our consult. I looked at my husband, Michael and said, "I really like them". He agreed, and we hired you. Our spirit guide sent us to you, as you were just what we needed. You helped us through so many insecurities. Having more faith in my body than I sometimes had. You were our angels.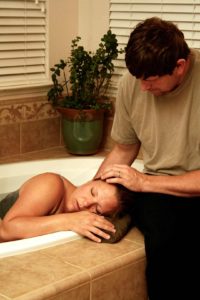 My previous baby had been preterm. You always had the right words to reassure me that my body was capable of carrying full term. You helped give me the confidence to say to my OB "I will hold you accountable if you make me go back to work" when I was having some preterm labor. Your spirit and strength helped me carry my son to term. You never wavered. I knew I could call you anytime, and I did! You made us feel comfortable to talk to you about anything, and WE DID! We never felt rushed even if you had another client walking up the drive and hadn't eaten yet. Nothing was more important than us at that moment. You were angels.
Everything was so fast during my delivery. I remember every second; at the same time it was a blur. Whenever I would look up all I had looking back at me was reassuring eyes. I remember hearing words like, "you're doing great!", "just like that", "you can do it". I would look up and saw strength pouring from your soul. Michael, my gentle giant, was softly caressing my hair, giving me his love. I remember the most amazing thing happened which showed how connected we all were. When I started pushing I could tell there was no movement of my baby. I was thinking, "I am pushing so hard my perineum should be bulging… something must be wrong". After 4 hard pushes, I looked up and said those words but not out loud, just in my mind. Right at that same moment, our midwife said, "may I check you?" I sat there in the tub thinking she had just read my mind. She was so connected to me and my birth that she actually read my mind. Our son was born safely moments later. You are angels.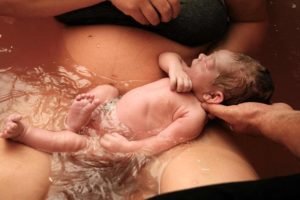 I can't think of a more suitable gift to give that a heart made from angel wings. I think your midwifery slogan should be "angels supporting the delivery of your angel".
Words are not enough to let you know how we feel about our midwives. We are forever grateful that God and spirit led us to you. Thank you for everything you did for my family, our new son and me. Thank you for your kind spirit. May you always feel as blessed as you are loved.
Rhonda W. Mother, athlete, former fire fighter and empowered woman.
A midwife's postscript:
This story, though a real story, with real parents, and real midwives, is the same story that I hear consistently from families who hire midwives to attend them. Some of the details change, and names, and time lines, yet the love and devotion of midwives, and the gratitude and appreciation of families is so universal. From time to time, a family makes a different choice for their next baby, but most often, they return to the midwife/practice who cared for them and will always care for them.