Research
In 2014, the Midwives Alliance (MANA.org) announced the publication of the largest ever U.S. study on planned home birth.
The largest ever examination of planned home births in the United States found that among low-risk women, planned home births result in low rates of birth interventions without an increase in adverse outcomes for mothers and newborns, and result in health benefits to mothers and their infants.

The study—which looked at nearly 17,000 women and their newborns—found that for planned home births with a midwife in attendance:

Over 93% women had a normal physiologic birth
A cesarean rate of 5%
Only 2.5% of babies admitted to the NICU in the first six weeks of life
87% of women with previous cesareans had their babies vaginally
Of the 10.9% of women who transferred from home to hospital during labor, the majority moved for non-emergent reasons, like a slow, non-progressing labor, or maternal exhaustion
At six weeks postpartum, nearly all babies were breastfed

Cheyney M, Bovbjerg M, Everson C, Gordon W, Hannibal D, & Vedam S. Outcomes of care for 16,984 planned home births in the United States: The Midwives Alliance of North America Statistics Project, 2004-2009.

Cheyney M, Bovbjerg M, Everson C, Gordon W, Hannibal D, & Vedam S. Development and validation of a national data registry for midwife-led births: The Midwives Alliance of North America Statistics Project 2.0 dataset.
Read MANA's study summary and fact sheets and MANA's blog post on the studies New Studies Confirm Safety of Home Birth With Midwives in the U.S.
The Midwives Model of Care
During May 1996, representatives of the Midwives Alliance of North America (MANA), the North American Registry of Midwives (NARM), the Midwifery Education Accreditation Council (MEAC) and Citizens for Midwifery (CfM) worked together to write a "definition" of what they called the "midwives model of care" that all the groups could use consistently in communicating with health care decision makers.
As they worked, they realized that a definition was needed that would address the primary concerns of health care decision-makers about midwifery, a definition that they would be likely to read. They started from the assumption that such decision-makers are mainstream and probably do not think in terms of mothers being capable decision-makers, and that the idea of partnership between mother and caregiver is either foreign or insignificant to their way of thinking. It was felt that they would be concerned about whether or not mothers and babies would at least get the basic "medical" care that our culture feels is essential for adequate "safe" maternity care. The definition addresses those concerns.
The Midwives Model of Care includes:

Monitoring the physical, psychological, and social well-being of the mother throughout the childbearing cycle

Providing the mother with individualized education, counseling, and prenatal care, continuous hands-on assistance during labor and delivery, and postpartum support

Minimizing technological interventions

Identifying and referring women who require obstetrical attention

The application of this woman-centered model of care has been proven to reduce the incidence of birth injury, trauma, and cesarean section.

Copyright (c) 1996-2008, Midwifery Task Force, Inc., All Rights Reserved.
Read more about The Midwives Model of Care at CFMidwifery.org
ACOG Committee Opinion (2017)
In February 2017, the American College of Obstetricians and Gynecologists released a Committee Opinion called "Approaches to Limit Intervention During Labor and Birth". Their guidelines reflect and espouse many of the core values that midwives advocate for, including:
An individualized approach to care, with the option of intermittent (as opposed to continuous) fetal monitoring and nonpharmacologic pain relief
Defining "active labor" as 5-6 cm dilation, rather than 4 cm dilation, and encouraging laboring people to stay home during early labor in order to reduce interventions
Encouraging the presence of a continuous labor support person (doula), since their presence is associated with improved birth outcomes, including shorter labors, decreased need for analgesia, fewer cesareans, and higher reports of patient satisfaction
Avoiding artificial rupture of membranes (breaking the waters) unless absolutely necessary
Reconsidering the limitations on eating and drinking during labor
Allowing laboring people to choose their own positions and push how/when they want to, as long as the baby can be monitored as necessary
Promoting delayed cord clamping for vigorous newborns

Copyright February 2017 by the American College of Obstetricians and Gynecologists. All rights reserved. 
This is a great stride forward for birthing people, families, babies, and birth workers!
Read the complete report here on ACOG's website
Check out this useful summary by Alaskan Midwife Elke Saunders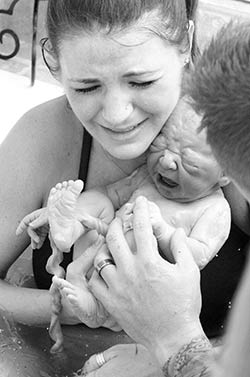 Ask Questions, Get Answers, Learn Your Options
Make a complimentary consultation appointment today with one or more of our outstanding midwifery practices. Each is unique in personality and style yet all are highly trained and skilled midwives.